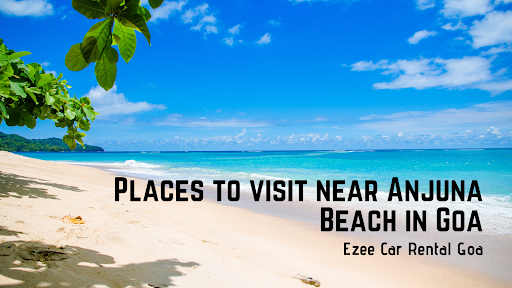 Places to Visit Near Anjuna Beach in Goa
Located in North Goa, Anjuna is a village and one of the twelve Brahmin communities. It is a famous tourist destination owing to its trance parties held for local and international tourists from October to April every year. Anjuna attracts a large number of tourists round the year owing to a number of popular locations in proximity. One of the most famous things for which Anjuna is known for is the hippy lifestyle.
As compared to other hotspots in Goa, Anjuna draws the maximum attention owing to a nightlife and the sandy white beaches. Apart from this, it also boasts of having some of the best places where tourists can enjoy the best time of their life. Here are Some of the Best Places Recommended By EzeeCarRental - Car Rental in Goa.
Chapora Fort

Chapora Fort is one of the most famous sightseeing attractions of Anjuna. It was built by Adil Shah, the ruler of Bijapur and was named as the town of Shah; also known as Shahpura. Chapora was built with the aim of keeping a watch on the Hindu raiders looking to set up a base in Goa.

However, around 1617; Portuguese rebuilt the fort and also constructed underground tunnels to escape in emergencies. This historical marvel has been built using red laterite stones and has steep slopes on all sides. The Chapora Fort provides an excellent view of the Anjuna and Vagator beach to tourists.

Ozran Beach

One of the most beautiful beaches of Goa is located at a distance of 3 Kms from Anjuna and Vagator beach. Ozran Beach is located behind the hillocks, the same on which Chapora fort is located. Tourists need to climb down a smaller hill to get to the beach, which is filled with local shacks and beds where they can relax.

Tiracol Fort

A major attraction located near Anjuna; the Tiracol Fort was captured by Portuguese and reconstructed in 1764. After the fort was liberated, it was used by freedom fighters. The fort is built on the North side of River Tiracol. The fort has now been converted to a heritage hotel and offers visitors with a view of both the Arabian Sea and Tiracol river.

St. Michael Church

The St. Michael Church was built in 1613 and is also one of the oldest churches of Goa. It was erected in 1603 and is located on the Anjuna beach road, not to forget that it has two large welcoming doors with two towers on each side. The Church is the best example of Portuguese style of architecture. The best time to visit St. Michael Church is during September.
Want to know more about other major tourist attractions and how to get there without wasting a minute? Connect with the experts at the Goa Car Rental Experts @9087007744 to get your transport sorted and enjoy each moment of your stay in Goa by riding in style. And If you are looking for Bike then Visit Bike on Rent in Goa