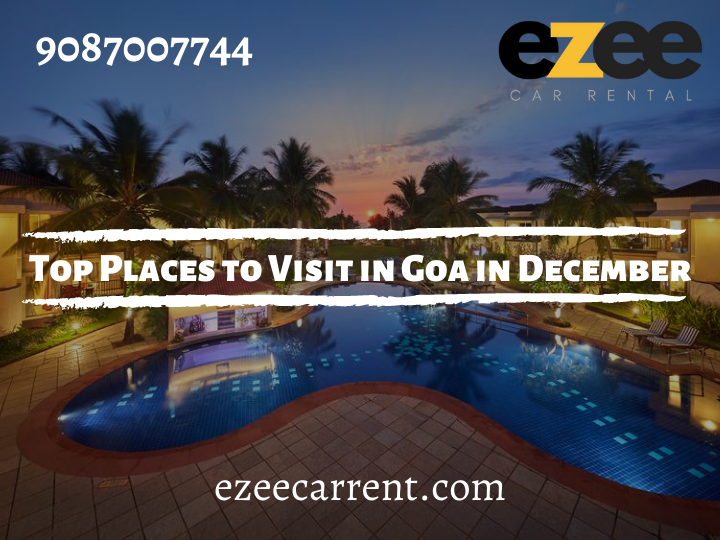 Top Places to Visit in Goa in December by Ezee Car Rent
As the month of December approaches, schools and colleges close down for the vacations. Even the working-class starts to look for a place to relax for the coming weekend and rejuvenate that lost energy. For those living in Mumbai, Goa seems to be an all-time Favourite for relaxing on the weekend as it is located a few hours away from the city of dreams.
If you are planning to pack your bags for the Christmas Holidays then make sure to visit Goa this time, Goa remains the best place to explore whether it is the sandy beaches or the nightlife.
However, make sure that you have your transportation sorted as renting a local taxi in Goa can reduce a significant amount of your holiday budget. This means that the money you want to spend on visiting places and enjoying the nightlife will be given away in travelling. It is recommended to either have your own transport or rent one for the duration of your stay in Goa. We recommend that you connect with the EzeeCarRent - Car Rental in Goa to get the Best Transportation on Rental.
Which Places Should I Visit During My Stay in Goa?
Although, Goa is divided into two parts namely South and North Goa with each offering their share of major tourist attractions. However, there are some places that offer more than just architectural beauty and attraction.
Calangute Beach

Known as the "Queen of Beaches" in North Goa, the Calangute Beach in Goa is one of the largest beaches of Goa. Calangute is one of the most commercialized beaches of Goa as it is covered with local shacks, clubs, shopping centres, and clubs to keep one busy throughout their stay in Goa. You can also enjoy the various water sports at this place.

Arvalem Waterfalls

Towards the south of the Bicholim Town in North Goa and at a distance of 9Kms is located the Pandava Caves and Arvalem Waterfalls. These are divided into 5 compartments with a Linga enshrined in the middle compartment.

The second major tourist attraction in proximity to the Pandava Caves is the Arvalem waterfalls. You can enjoy the mesmerizing view of the water gushing down from a height of 50mts.

Tito's

Your Journey to Goa will always remain incomplete without indulging yourself into its nightlife at Tito's. It is one of the Best nightclubs in Goa and also one of the first discotheques which is located in proximity to the Baga Beach in Goa. Tito has two dance floors from where you can either sit and enjoy or lose yourself in the beats. Saturday is the best time to visit Tito's as this is the time when people lose themselves over electrifying and pulsating music, not to forget the tasty food.
Want to know more about other major tourist attractions and how to get there without wasting a minute? Connect with the experts at the Goa Car Rental Experts @9087007744 to get your transport sorted and enjoy each moment of your stay in Goa by riding in style. And If you are looking for Bike then Visit Bike Rental in Goa